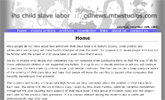 Technologies used: PHP, HTML, CSS, MySQL
This website was created Oct/November 2005 as the successor to the old website which had been running for a few years, but had become out-of-date. I acted as the main webmaster and designer for the 2005-2006 scholastic year, and am in the process of handing off the webmaster duties to the next Honors II class. After that, I will continue to offer support and improvements on the existing site.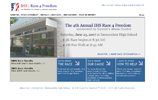 Technologies used: HTML, CSS
Assised with the coding of the newly designed site. I currently maintain this site along with ftfuchs.

Technologies used: Wordpress, HTML, CSS
I set up this Wordpress-driven website as a temporary site for our college Japanese drumming group. The site is currently maintained by a new webmaster, but I continue to support the site and provide hosting services.